Our Company
Delivering 5-Star IT Experience Guaranteed.
Schedule a 15 Minute Assessment Call
The ONE 2 ONE Guarantee
ONE 2 ONE is committed to delivering a 5-Star IT experience throughout our partnership. That's why we stand behind our services and offer a 90-day money-back guarantee if we're not meeting your expectations. 
If you decide, over the first 90 days after signing on with ONE 2 ONE, that we're not the right fit for your IT needs, we will refund 100% of your monthly agreement fees. We will also help you transition to another provider, no questions asked.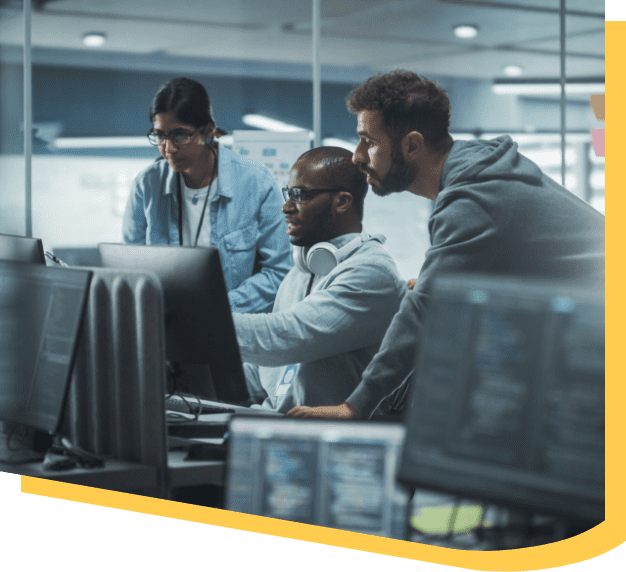 Meet The Team
Nicholas Paulukow

CEO and Visionary

Becky Paulukow

Integrator

Andrew Supeck

Service Team Lead

Billy Sprankle

Subject Matter Expert

Darren Fritz

Finance and HR Manager

Pam Hartmoyer

Finance and HR Team Lead

Elaine Willis

Key Account Manager

Michael Kurtz

Senior Account Manager

Shana Theimer

Account Manager Coordinator

Chuck Minguez

Sales Development Rep

Rayvon Scott

Service Technician

Ben Salter

Lead Service Engineer

Mike Liebgott

NOC Technician

Jamaal Calloway

Service Technician

Todd Meyer

Service Specialist

Traci Bowers

Pro Services Team Lead

Dani Longenecker

Project Coordinator

Wade Fisher

Pro Services Specialist

Dan Wright

Pro Services Engineer

Andrew Stocker

Technical Intern

Owen Paulukow

Technical Intern

Korey Grim

Service Coordinator
Our Result
Tickets Resolved Annually
Minutes Average
Response Time
Headquarters
Discover More Than Just ONE 2 ONE In Lancaster
ONE 2 ONE has called Lancaster, Pennsylvania, home since 2001. Many of our people and partners were born in the region. While Lancaster, PA, is known for our sizeable Amish population, we are also a city of over 60,000 people. Forbes named us on their "10 Coolest Cities to Visit in 2018" and "14 Best Places to Travel in the U.S. in 2019" lists. 
We are one of the oldest inland towns in the United States with our unique culture, which blends both traditional and modern within the confines of the city. From its Amish and Dutch markets to fine dining and craft cocktails, its hip Victorian city to lush rolling hills, ONE 2 ONE loves the place we call home.  
Our Facility
At 10,000 square feet, our headquarters is custom designed to provide managed technology services to all our local and regional clients. We proactively keep systems running in our secured Network Operations Center (NOC), protected with redundant Internet connectivity and backup power systems. 
ONE2ONE also supports complex project deployment with secured physical space for staging, storing, and performing project work. Schedule a visit to come in and see how we use the latest technology every day and how we can accelerate the growth of your business.
Get the 5-Star IT Service You Deserve